June 1, 2020
Due to travel restrictions, plans are only available with travel dates on or after
Due to travel restrictions, plans are only available with effective start dates on or after
;
Ukraine; Belarus; Moldova, Republic of; (North) Korea, Democratic People's Rep; Russian Federation
Jamaica
Israel; Jamaica; Republic of Ireland; Northern Ireland;

Experienced cruisers never leave shore unless they're protected by cruise travel insurance. Why? Because when something goes wrong on your vacation, cruise insurance can help make things right. If the ship sails without you because your flight to Miami was delayed, cruise insurance can help you catch up. If you break your leg and have to cancel your trip, the cruise line won't reimburse you — but travel insurance can. And if you suffer a medical crisis on board, cruise insurance can cover your evacuation and emergency medical care.
Cruise travel insurance from Allianz Global Assistance includes many other benefits, such as lost/delayed baggage coverage, trip delay coverage, trip interruption coverage and more. We offer affordable plans for every type of cruise. Just remember: As long as you're protected with an Allianz cruise insurance plan, you can leave your worries at the dock.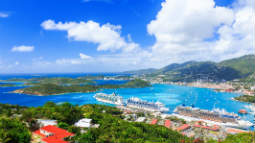 Cruise Line Insurance Plan Comparison
Every cruise line offers some kind of protection plan to it passengers. Should you buy it?...
Cruise Travel Tips & Advice
Whether it's your first voyage or your fiftieth, we want your upcoming cruise to live up to your highest expectations. That's why we've collected our best cruise tips and resources in this library. You'll find reviews of specific cruise lines, cruise packing lists, advice on choosing port excursions and guides to purchasing cruise travel insurance.
cruise
No articles found to display
Apr 29, 2019