June 1, 2020
Due to travel restrictions, plans are only available with travel dates on or after
Due to travel restrictions, plans are only available with effective start dates on or after
;
Ukraine; Belarus; Moldova, Republic of; (North) Korea, Democratic People's Rep; Russian Federation
Jamaica
Israel; Jamaica; Republic of Ireland; Northern Ireland;

What Are Travel Insurance Benefits?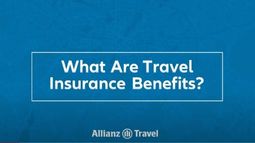 ---
Transcript:
Benefits are the different types of protection included in your travel insurance plan.
Need to call off your trip? Trip Cancellation benefits can reimburse you.
Get sick or hurt while traveling? Emergency Medical and Dental benefits can pay for your care.
SmartBenefits® from Allianz Global Assistance can even pay you $100 for a covered trip delay or baggage delay. No receipts required.
Benefits vary by plan. All of our plans include the emergency assistance benefit, so you'll never travel alone.

May 17, 2022