June 1, 2020
Due to travel restrictions, plans are only available with travel dates on or after
Due to travel restrictions, plans are only available with effective start dates on or after
;
Ukraine; Belarus; Moldova, Republic of; (North) Korea, Democratic People's Rep; Russian Federation
Jamaica
Israel; Jamaica; Republic of Ireland; Northern Ireland;

Choose Your Cruise Packing List: Basic or All-Inclusive?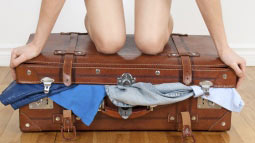 When you're searching for a complete cruise packing list, you soon find that they're all over the map. Some cruisers pack only the essentials, while others recommend bringing a travel steamer and a luggage scale. What do you really need? Well, that depends on your cruising style. Check out these three cruise checklists for minimalists, comfort-seekers and survivalists.
These cruise packing lists are for both men and women, and are intended for warm-weather cruises. Adapt each list to fit your cruise length, destinations and ship requirements. A few quick cruise packing tips:
Remember that you may need specific clothes and gear for cruise excursions, so plan those ahead of time.
Cruise Critic has a comprehensive guide to cruise lines' dress codes that will help you understand just how formal your formalwear should be.
Check to see what amenities your ship provides in the rooms. Some offer bathrobes and name-brand toiletries; some just give you the basics.
The Basic Cruise Packing List
The whole point of a cruise is that everything's provided for you — so why burden yourself by loading up your luggage? Packing light shouldn't mean suffering, however, or missing out on shipboard activities because you're not dressed properly. Make sure you pack clothing for chilly nights as well as warm days, and try to choose basic pieces that can be dressed up or down. If you're an easygoing cruiser who doesn't mind forgoing a few comforts, here's the cruise checklist for you.
T-shirts
Shorts
Button-down shirts
Tie
Blazer or sport coat
At least one dressy outfit for dining with matching sweater/shawl
Nice pants or capris - (leave the jeans at home)
Bathing suit and cover-up
Pajamas/sleepwear
Underwear
At least one sweatshirt or light jacket -for chilly nights (or days)
Rain jacket
One pair flip-flops or sandals
One pair walking shoes - (look for a pair nice enough to wear to dinner)
A few pieces of inexpensive jewelry
Sunglasses
Prescription or reading glasses
Hat
All crucial travel documents - passports, visas, immunization records, cruise documents, cruise travel insurance policy, copies of credit cards
Backpack or beach bag - for excursions
Carry-on bag - for air travel and the last night aboard
Small bills - for tipping cruise staff
Cell phone and charger
Power outlet adapter, - if you're traveling on a European cruise line
E-reader
Sunblock and sunburn treatment
SPF 15 lip balm
Insect repellent
Face and body lotion
Deodorant
Perfume
Ear plugs
Comb and brush
Hair products
Shower cap
Toothbrush and toothpaste
Mouthwash
Contact lenses and solution
Makeup
Sanitary pads or tampons
Floss
Razor
Nail file and clippers
Tweezers
Small first aid kit - with Band-Aids and antibiotic ointment
Baby wipes - for quick cleanup
Travel packs of tissues
Pain reliever
Cold medication
Anti-diarrhea medication
Anti-nausea medication
Sleep aid
Prescription medication - in original container
Hand sanitizer
The Comfort-Seeker's Cruise Packing List
Maybe you can't afford the Grand Duplex suite on board the Queen Mary 2, which includes two marble bathrooms, a private gym and a personal butler1. But you enjoy little luxuries when you're on a cruise, and you always make an entrance when the ship hosts formal dinners. If you like to travel in style, this is the cruise checklist for you.
Everything in the basic cruise checklist
Tuxedo - with cummerbund, suspenders and cufflinks
Evening/cocktail gowns - with matching shoes and jewelry
Small evening bag or clutch
Workout wear and athletic shoes
Snorkel gear - if you prefer to use your own
Bathrobe and slippers
Extra clothes hangers
Hairdryer
Curling iron or flat-iron
Shampoo and conditioner
Soap or body wash
Nail polish and polish remover
Lint roller
Wrinkle release spray
Camera - if you want photos better than cell phone-quality
Highlighter/pen - to note activities you don't want to missli>
Post-It notes - to leave messages for crew and travel companions
Air freshener - for your cabin. No candles!
Nightlight
Small speakers - to plug into your phone or MP3 player for in-cabin music
Framed photo - of your loved ones
Disinfecting wipes - to give your cabin the once-over
Hanging shoe organizer - to store your toiletries, accessories and gadgets
Travel mug - for coffee, so you don't have to keep getting refills
Large insulated water bottle
Beer or wine and bottle-opener - (check your cruise ship's policy first)
Disposable wine glasses
Snacks
The Survivalist's Cruise Packing List
Like a Boy Scout, your motto is, "Be prepared." You're happy dining in shorts on the Lido Deck, but you hate the idea of being helpless if the ship suffers a fire and power outage at sea, like the Carnival Triumph. Here's a cruise packing list that'll help you stay safe and comfortable, no matter what happens.
Everything in the basic cruise checklist
Non-perishable snacks - such as nuts, trail mix and energy bars
Bottled water
Hydration powder packs - in case norovirus strikes
Solar-powered/hand-crank phone charger
Battery-operated fan - in case the A/C fails
Power strip - to keep all your devices charged and ready. Check your ship's regulations first.
Clothesline and detergent
Pocketknife or multi-tool - (remember to stash this in your checked luggage)
Duct tape
Flashlight
Glow sticks
Sanitary waste disposal bags
Walkie-talkies - to keep in touch with travel companions
Emergency whistle
Comprehensive first aid kit
Non-electronic entertainment - such as cards or travel games
The one item that's crucial for every type of cruiser? Cruise insurance. A comprehensive policy from Allianz Global Assistance provides coverage for common mishaps, including lost or delayed luggage, missed flights, stolen bags, illness at sea and trip cancellation or interruption for a covered reason. Happy cruising!
Print Checklist
Be sure to print our checklist and take it with you. Simply click the "print" link below and make sure to have your browser set to print background images so that you can see the checkboxes.
Nov 09, 2016