June 1, 2020
Due to travel restrictions, plans are only available with travel dates on or after
Due to travel restrictions, plans are only available with effective start dates on or after
;
Ukraine; Belarus; Moldova, Republic of; (North) Korea, Democratic People's Rep; Russian Federation
Jamaica
Israel; Jamaica; Republic of Ireland; Northern Ireland;

Top U.S. Spring Break Destinations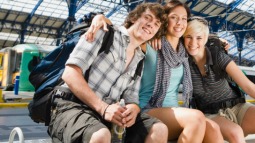 When spring break's on the horizon, many students start searching for their passports. Cancun, Nassau, Punta Cana and Negril all beckon — but wait! We have a better idea. Save your cash for something more meaningful, like studying abroad, and spend your break in the U.S. instead. All of these spring break destinations offer everything you'll need: warm sun, sparkling water, and a few thousand new friends.
South Padre Island, TX
Attracting 50,000 students every spring, the world's largest barrier island lays claim to being one of the top spring break destinations in the U.S.1 The uniquely shaped island is only half a mile across as its widest point, which means the beach and the Gulf of Mexico are just a shell's throw away.4 One of the most popular hangouts is Clayton's, known as the biggest beach bar in Texas and the host of free daytime concerts. Another is the Isla Grand resort, famous for events like the "Bathing Suits and Cowboy Boots" pool party.
If packed pools and foam parties aren't your thing, South Padre has plenty of options for watersports, including jet skiing, kiteboarding, and windsurfing. Nature lovers can visit local centers for dolphin research, sea turtle rehabilitation, and birding.
Panama City Beach, FL

This town on the Florida panhandle destination claims it has "The World's Most Beautiful Beaches" because of its rare white sand. It's pleasantly warm, but not hot; the average high temperature in PCB in March is 72 degrees F.2 Among Panama City Beach's most famous landmarks is sprawling Club La Vela, a nightlife spot housing multiple dance floors and a huge pool.
For years it was one of the hottest spring break destinations for college students, but Panama City Beach is a lot tamer than it used to be. Concerned about increasing episodes of violence and assaults, the city banned alcohol on the beach in 2015. The result was a swift and sudden drop in spring break tourism, emptying restaurants and nightclubs.3 As a result, PCB has become a more laid-back spring break destination (and more affordable, too).
Miami Beach, FL

For a spring break that's a little warmer and a little wilder, head south to Miami Beach and South Beach, or SoBe. Spend lazy days at various hotels' pool parties, then (after an afternoon nap) turn up at one of South Beach's famous clubs. Don't miss Ora, a huge, lavish spot with a Euro vibe, and Basement, where you can take a break from the dance floor to bowl or ice skate.4 Just be aware that the velvet rope is in full effect in South Beach; if you're not dressed to impress, you won't get in.
The only problem with spring break in Miami Beach is the cost. If you're on a budget, you might cry when you discover $50 cover charges and $20 cocktails. But you can make it work by staying at a cheaper hotel or hostel, ideally one with a kitchenette, and opting for delicious Cuban eats instead of expensive restaurants. Don't forget to take advantage of the free attractions. We recommend South Pointe Park, a picturesque beach, pier and park that's perfect for fishing and relaxing.
San Diego, CA

So many of the top spring break destinations in the U.S. are tiny, overcrowded beach towns, like South Padre and Panama City Beach. Why not choose a real city instead? One of our favorites is San Diego, a vibrant place with hundreds of things to do. Learn to surf. Peek at tide pools. Stroll through Mission Bay Park. Ride the coasters at Knott's Berry Farm.
And when you're ready to party, there's no shortage of hotspots. From the Altitude Sky Lounge, you can see Coronado Island and the bridge (and during happy hour, the drinks are actually cheap). The Onyx Room has three dance floors with Latin beats, and Spin Nightclub plays house and trance music long after the other clubs close.
Just remember that even when you're traveling in the United States, you still need travel insurance. No spring break trip is immune to travel interruptions, cancelled flights, unexpected illness or injuries, and other crises that can throw a wrench in your trip. Get a quote for your spring break trip now — you'll be surprised by how affordable protection can be!
Related Articles

Mar 09, 2018