June 1, 2020
Due to travel restrictions, plans are only available with travel dates on or after
Due to travel restrictions, plans are only available with effective start dates on or after
;
Ukraine; Belarus; Moldova, Republic of; (North) Korea, Democratic People's Rep; Russian Federation
Jamaica
Israel; Jamaica; Republic of Ireland; Northern Ireland;

Annual Travel Insurance vs. Single-Trip Travel Insurance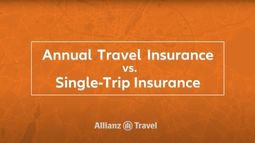 Should you buy single-trip insurance or an annual travel insurance plan? That depends on your travel plans for the next 365 days. If you generally take one big vacation each year, a OneTrip plan may be the best choice. People who take several short trips, including business trips and weekend getaways, can save money with an AllTrips plan.
---
Transcript:
If you're taking more than one trip this year, an annual travel insurance plan may save you money.
An AllTrips annual plan protects all your trips for 365 days, including long vacations, short getaways, weekend roadtrips, and even business trips.
A single-trip plan protects just one trip. This can be the best choice if you're planning one big vacation, or if you're traveling with children.
The OneTrip Prime and OneTrip Premier plans cover kids 17 and under for free when traveling with a parent or grandparent.

Mar 03, 2023