June 1, 2020
Due to travel restrictions, plans are only available with travel dates on or after
Due to travel restrictions, plans are only available with effective start dates on or after
;
Ukraine; Belarus; Moldova, Republic of; (North) Korea, Democratic People's Rep; Russian Federation
Jamaica
Israel; Jamaica; Republic of Ireland; Northern Ireland;

Traveling with Grandchildren: Happy Kids, Great Vacation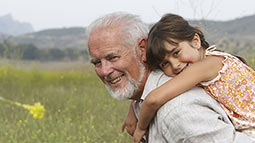 If you're like most grandparents, you probably love to spoil your grandchildren with toys and clothing. But toys lose their sizzle and are quickly tossed aside, while clothes are quickly outgrown. A better idea? Take your grandkids on vacation. In the long run, experiences can be so much more valuable than "things." For example, even a less-than-favorable event can turn into a great story that you and your grandchildren can share for many years to come. Of course, great times make even better stories, so here are a few tips for planning a fun and smooth trip with your beloved grandchildren.
Obtain a notarized letter of consent for each child. According to U.S. Customs and Border Protection, you should carry a notarized letter from the children's legal guardian or parents that gives you permission to travel with the child. Because the United States does not require this letter, you may or may not be asked for it before you leave the country. However, many other countries, including Canada, may ask for this document upon your arrival. And, if you are unable to produce it, your destination country may deny entry.1
Ask for a medical consent letter, as well. This is a good case for better safe than sorry. Chances are your grandkids will be perfectly fine during your trip, but, if one should suffer an ear infection or injure a limb, you should have a medical consent letter from the parents that gives you the right to seek treatment for the youngster in your care. You should also carry a copy of the children's medical insurance card with you on your travels.
Ask the parents to get your grandchildren's passports well in advance of your trip. Passports can take four to six weeks or even more to obtain. If you will be traveling out of the country and your grandchildren do not already have passports, it is important that the parents start the process fairly early. For one thing, there is a chance that the parents can't locate the child's birth certificate and have to order a new one, or that the copy they have is considered an abstract, which cannot be used to obtain a passport. This could set the passport process back even more. While an expedited passport service is available, it costs extra.
Get the kids involved in the planning. Don't just assume that your children will love a certain activity or destination. Instead, ask your grandkids to help you pick out activities that they will be interested in.
Let the kids use Skype to keep in contact with their friends and family at home. If you will be traveling for a week or more, you may want to consider having family members sign up for Skype on their phones or computers. Children can get homesick for those that remain at home. Allowing them some time to connect face to face with loved ones can help ease that homesickness.
When traveling abroad, turn everyone's phones to airplane mode and use Wi-Fi to connect whenever possible. If you don't follow this step, you or your grandchildren's family could end up with a huge phone bill.
Make sure to carry current photos of your grandchildren. Hopefully, you and your grandkids will never get separated while on vacation. But, if you should, having either digital pictures on your phone or an actual photograph could help the police or good samaritans to locate your lost grandchild.
Have each child carry a copy of your itinerary with hotel phone numbers and your contact information in his or her backpack. Again, chances are you won't get separated, but this type of information can get them back to you sooner in the event that a child does accidentally stray out of your sight.
Consider taking your grandkids on a cruise or to an all-inclusive resort. These vacations make it easy to travel with your grandkids. For one price, you will typically get all of your meals, drinks and many types of activities. Most all-inclusives and cruises also offer a variety of entertainment, including live shows, and many offer age-appropriate clubs for teens and kids.
Be flexible. Children have a way of derailing the best-laid plans. If you can tell that a child is getting cranky, it is better to cross an item off your itinerary and give them a little downtime than it is to soldier on with a child that is about to throw a tantrum.
Choose a condo, cabin or timeshare unit. Unlike a hotel room, these accommodations typically have separate bedroom and living areas. This will not only give your group more room to spread out, but can also give a child or even a teenager somewhere to nap or read a book in quiet.
Invest in trip insurance. Keeping up with young ones can be tiring. According to CBS San Francisco, seniors are more likely to get injured while traveling than any other age group. That's why the Centers for Disease Control and Prevention (CDC) recommends that seniors buy supplemental travel insurance. Of course, it's also a good idea to purchase coverage, such as Allianz Travel Insurance, for your grandchildren, as well.
Mike Ward is a copywriter, family columnist and sometimes comic who lives in Richmond, Va. with his wife, two young kids and two mutts. He likes long road trips and rooting for losing sports teams. 
Related Articles

Apr 21, 2016